Panel Upgrades
Electrical Panel Upgrades in New Braunfels & Beyond
20+ Years Of Providing Stellar Electrical Services
When you purchase a home, there are many components and fixtures you have inspected to ensure they are working properly. Once you move into your home, you may not think about many of these components again until something stops working. If your electrical system is acting up or you do not believe you are getting the most out of it, you may want to consider investing in an electrical panel upgrade. As your consumption of energy and electric use rise, your electrical system must be updated to properly satisfy your belectrical needs.
---
Are you considering an electrical panel upgrade service? Give Lowry Electrical a call today at (830) 237-6219to find out how we can help you.
---
Signs You May Need An Electrical Upgrade
Without the proper training in electrical technology, it may be difficult to know when you need a panel upgrade. There are signs to look out for and by educating yourself, you can stay aware of the signs of trouble. When something does seem off, you will need a trusted and experienced electrical contractors you can count on to help you repair or upgrade your system. Fortunately, our trained New Braunfels electricians are here to help you when something does go wrong. We also serve the surrounding communities across Comal County.
Signs that you may need to invest in an electrical panel upgrade include:
Two-pronged (non-grounded) outlets
Overheating electrical service conductors
Constantly blowing fuses
Cracking sound from fuse box
Appliances are not running on full power
Replacing A Blown Fuse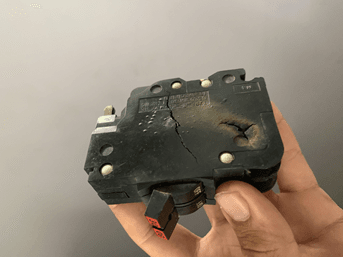 Whenever you have a power outage in a specific area of your home, or a house-wide power outage that is not the result of a service outage in your neighborhood, this is likely the result of a blown fuse or breaker. In older homes, replacing a blown fuse is a relatively simple process and can be done without special tools. However, most modern homes or homes with updated electrical equipment have circuit breakers rather than fuse boxes, and in this case, you will likely need to​ contact an electrician in Comal County, TX for assistance.
Before you begin replacing a blown fuse, you will first need to purchase a replacement. You will want one that is of the exact same amperage.
Once you have your replacement fuse, locate the fuse box in your home and open it up. You may need a flashlight, depending on where the fuse box is located in your house—they tend to be in dark basements or closets. Some fuse boxes have doors that easily open, while others need to be opened with a screwdriver.
The blown fuse will likely either appear to be burnt or broken, or will be visible by being raised above the rest of the fuses in the fuse box. Unscrew the old fuse and throw it away.
Then, to insert the new fuse, simply put it into place, turn it clockwise and tighten until it is firm. Do not feel like you have to tighten it too much—aggressively tightening the fuse past its necessary point could cause damage to the fuse box. Once you have completed the replacement, reseal the covering and test your electricity.
Keeping Up With Electrical Advancements
At Lowry Electrical, we know how important it is that your home can keep up with your energy demands. The last thing you want is to fry your appliances because your electrical system is struggling to provide you with sufficient energy. Our electricians serving New Braunfels and surrounding communities can provide you with numerous options, such as main and sub panel upgrade services, and ensure you understand the benefits of each option which is available to you.
---
If you would like an on-site estimate for a New Braunfels electrical panel upgrades service, call us now at (830) 237-6219.
---
Customers Spreading the Light
"Fair pricing and quality work."

Lowry was absolutely fantastic. Fair pricing and quality work. Everyone I dealt with, office and electricians, were super nice. Highly recommend.

David

"Top Shelf service and Techs"

Jason and Justin arrived on time and ready to work. I had a laundry list of things I needed done, (moving a router, moving and installing lights). In/ out and cleaned up in no time. Put me in the very satisfied category.

Mark W.

"Another job well done"

Eric Newberry showed up right on schedule and quickly fixed the ceiling light. Lowry is my go to company for electrical work.

Cindy L.

"1ST CLASS BUSINESS!"

Truly a genuine sense of urgency is displayed for the customer in time of emergency. 1ST CLASS BUSINESS! THANK YOU KINDLY! Bad Breaker (Gen2 replaced w/ Gen3)

Brady

"Quick and efficient!"

Quick and efficient job. Both fellers's quite amicable and pleasant to chat with. I recommend, and will call you again. Thanks, R.K.C.

RKC
Contact Lowry Electrical
For All Your Electrical Needs